Copper price jump: China concentrate imports hit record


The copper price hit an 18-month high on an intraday basis last week as global manufacturing activity continues to pick up and hopes about US president-elect Trump's $500 billion infrastructure plans lift sentiment.
Copper price jump: China concentrate imports hit recordWhile it's pulled back from those levels since, official customs data from China, responsible for some 45% of global consumption of the red metal, released on Thursday is seeing the metal turn positive again.
In overnight trade on Friday copper for delivery in March, the most active contract, was exchanging hands for $2.6575 per pound ($5,858 a tonne), up 1.2% from Thursdays close on the Comex market in New York.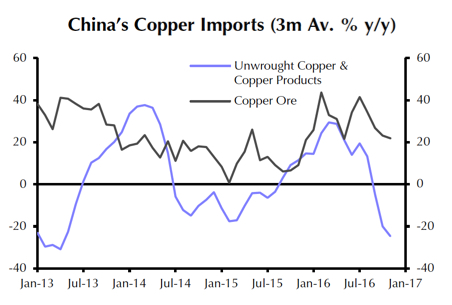 While China's copper imports surged 31% to 380,000 tonnes in November compared to October, shipments were down 18% year on year. Concentrate imports however hit an all-time high last month of of 1.76 million tonnes. Year to date shipments are up 31% year on year at 15.4 million tonnes.
After vastly underperforming other metals and steelmaking raw materials in 2016, copper has been playing catch-up and is now up 37% from six-year lows hit mid-January this year.
Written by Frik Els
------------------------
Source: Mining.com, December 09, 2016.
Last Updated on Tuesday, 13 December 2016 03:42