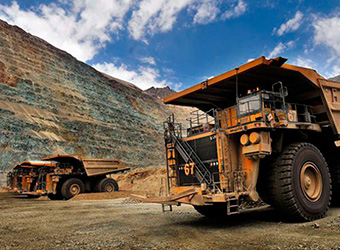 Mining production records highest headline growth in 2 years
South African mining production rose 15.5% year-on-year in March, marking the highest headline growth rate in production in two years.

"On a seasonally adjusted monthly basis, production rose 3.7%, [the] strongest monthly performance since May last year. In the first three months of this year, cumulative monthly mining production growth was up by a robust 8.4%," BNP Paribas Securities South Africa economist Jeffrey Schultz pointed out on Thursday.

He noted that much of the improvement in headline mining production growth was driven by industrial and precious metals.

Platinum production rose 4.8% month-on-month in March, which helped push its year-on-year growth rate to 30%.

Iron-ore production rose by 1.5% month-on-month in March, pushing its year-on-year growth rate to 24.4%.

"Coal production climbed 0.6% last month, pushing its year-on-year growth rate to 8.1%, after February's 9.8% contraction," Schultz said.

He stated that the robust end to the quarter for mining activity had pushed momentum growth in mining production to its highest quarterly growth performance since the second quarter of 2016.

"After being one of the largest negative contributors to the fourth quarter's gross domestic product (GDP) growth, the mining sector now looks to be one of the largest positive contributors to the first quarter's GDP growth," Schultz said.
Written by Anine Kilian > Edited by: Chanel de Bruyn
------------------------
Source: MiningWeekly.com, May 11, 2017.
Last Updated on Monday, 29 May 2017 21:56